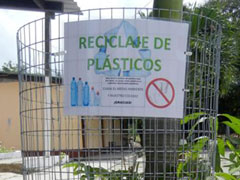 PCV Sarah Reichle is seeking support for a "Recycling Competition and World Map at a Local High School." As of May 27, 2013, she needed less than $400 to reach her goal. Donations can be made through the Peace Corps Partnerships website. Read on for more details about the project. June 7 Update: The project appears to have been fully funded, thanks in part to our appeal. The link above may no longer be active but read on about the project and we hope to have more news about it in the future!
A small coastal community in rural Ecuador proposes this project to fund two activities at the local high school. First, we will conduct a world map mural painting project. With grant funds to buy paint, brushes and other materials, we will paint a large world map mural on a wall in the high school to teach geography. The grant will also fund after-school activities for students and workshops to encourage teachers to use the world map in their classes.
The second activity will be a school-wide recycling competition. Waste management has been identified as the number one environmental problem by students, and this project's goals will be to teach environmentally friendly waste management practices and help clean up the community. The students will compete by course to collect the most bottles with an overall goal of collecting 1,000 plastic bottles to sell and recycle. Grant funds will be used for recycling bins, competition promotion, materials for recycling education and after-school activities, and a prize for the winning course. In addition to learning about recycling in the classroom, students will also have the opportunity to attend workshops after school to create a bottle cap mosaic as well as other recycled art. Recycling bins will also be made for the community and will be placed in public parks and high-traffic areas near the beach.
This project aims to provide safe after-school activities for students and to clean up the community while teaching youth the importance of recycling and eco-friendly waste management.